Mr Chancellor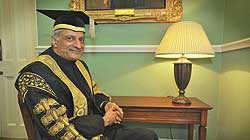 International statesman Kamalesh Sharma, Secretary-General of the Commonwealth, was installed as the ninth Chancellor of Queen's University on December 10, 2009. Described by Queen's Vice-Chancellor Professor Peter Gregson as "a role model and an inspiration", Kamalesh Sharma is a distinguished career diplomat who has served at ambassadorial level in five missions – including as Indian High Commissioner in London.
Now Secretary-General of the Commonwealth, he works with 54 sovereign states on a global agenda which includes the promotion of peace, democracy and human rights, tolerance, respect and understanding, the rule of law, global access to health and education and the elimination of poverty.
The Vice-Chancellor, said: "Kamalesh Sharma's eminent career demonstrates an unflinching dedication to building a better world through partnership and co-operation. "One of the defining characteristics of his service as Secretary-General of the Commonwealth is his commitment to young people. I know he will be an inspiration to our students. I know too that he will be an inspiration to the wider University family and to our community.
"As India's High Commissioner to the United Kingdom, he made a series of visits to Northern Ireland, promoting business and trade between the region and the Indian sub-continent. "His appointment will help us to establish deeper and richer international relationships which will bring real benefits to Northern Ireland. His exceptional career provides a perfect platform for his new role as Chancellor of Queen's – the University's ambassador to the world."
In response, Mr Sharma said: "I am enormously proud to be invited to serve Queen's University and look forward to contributing towards strengthening its international influence.
"Queen's has an international academic reputation and its research has made a dramatic impact on the world. We are operating in a competitive, worldwide higher education environment. The stronger a University's international connections, the greater the contribution it makes to the economic and social development of the community it serves. Northern Ireland should be justifiably proud of Queen's University Belfast.
"Queen's has high ambitions and I endorse these fully. I am enthused by its aspiration to become a global Top 100 university within the next five years. I believe it has the commitment, the resources and above all the talent to do that, and I look forward to contributing in whatever I can to help it achieve this aim."
Kamalesh Sharma succeeds former Chancellor Senator George Mitchell as Chancellor. Senator Mitchell stepped down in March following his appointment to head up the United States' peacemaking efforts in the Middle East.
Queen's new Chancellor was educated at Modern School and St Stephen's College, New Delhi, and at King's College, Cambridge University, where he read Literature. He is a Fellow at Harvard University and a Governor of the Ditchley Foundation which promotes international learning. He was formerly a Director of the International Peace Academy in New York. In 2001 he was recognised for his outstanding services to internationalism through the award of the Foreign Policy Association of the United States Medal.
He joined the Indian Foreign Service in 1965. From 2002 to 2004, he was the first Special Representative of the United Nations Secretary-General to East Timor, with the rank of Under Secretary-General. From 2004 to 2008, he was India's High Commissioner to the United Kingdom, where he was closely involved in Commonwealth activities. He is committed to the empowerment of young people, the advancement of women's rights, the challenge of poverty eradication and economic growth.
He and his wife Babli have two grown up children. His interests include literature, cosmology, jazz, Indian and Western classical music and cricket. He has edited two books on global affairs and poetry.