Several initiatives in technical education have now been taken by the Government of the National Capital Territory of Delhi at the behest of Chief Minister Sheila Dikshit. The idea behind the initiatives is to make technical education more meaningful, more industry specific and more sustainable for all segments of society.

We look at some of them:
Increase in technical education opportunities through Public Private Partnership (PPP): About 50 per cent seats in degree and diploma level technical education institutions have been added during the past two years. As a result, the shortage in technical education opportunities in Delhi has mitigated to a considerable extent. In the recent past, however, the addition of new self-financed institutions has virtually come to a halt on account of DDA's Land Auction Policy. To overcome this problem, the Delhi Government is stepping in by setting up Government-run engineering colleges and diploma level institutions. During the past year, two new engineering colleges have been set up at Jaffarpur and Okhla.

In Government run polytechnics a 50 per cent increase in the seats was accomplished in 2007 by increasing the number of students in a class and by adding an evening shift of classes for better utilization of the infrastructure.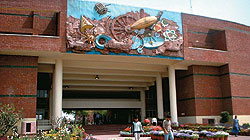 Science and Technology Park based on Industry-Institute Partnership: Industry relevant Research and Development efforts in India have lagged behind those of China which has strategically used its R and D Parks developed in collaboration with academia to propel a substantial part of its economic growth. To capture this potentially lost value, the Netaji Subhash Institute of Technology (NSIT), a leading engineering institution fully funded by the Delhi Government, is setting up on PPP basis, a state of the art Science and Technology Park in collaboration with NASSCOM.
Public Private Partnership (PPP): The Department has entered into Public Private Partnership with CISCO, LG Electronics, Toyota Kirloskar Motors for providing additional training to students to make their courses far more practice oriented and to improve the chances for their placement.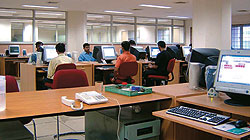 Starting of new discipline focused institutions: Delhi Government is setting up a new Indian Institute of Information Technology (IIIT) modelled on the prestigious Indian Institute of Technologies (IITs). This particular IIIT would have a distinct niche in comparison to other IIITs as it would focus attention on specific domains of Health and Life Sciences, Finance and Government. This unique academic and governance model requires that IIIT Delhi be a University set up by the Delhi Legislature empowered with academic, financial and administrative autonomy. The Delhi Legislative Assembly has passed the IIIT-Delhi Act and a Board of Governors headed by Kiran Karnik, former president of NASSCOM has been constituted.
EDUSAT Facility: The Delhi Government in collaboration with ISRO has set up an EDUSAT facility to enable distinguished faculty members to deliver lectures in multiple locations. This facility is contributing to mitigation of the shortages in technical education faculty. Delhi's EDUSAT facility is now touching 50 different institutions. EDUSAT facility of Delhi also provides a platform to capture content from the large number of conferences, seminars and workshops that take place in Delhi and to use it as a national repository of these events. The recordings and documents of these events would be made available to the public through a web interface by Delhi's EDUSAT facility. Delhi Knowledge Development Foundation (DKDF) has been set up to improve access and quality of technical education through design and implementation of innovative projects.
The TECOS provides for performance-linked funding to NGOs. Already 15 NGOs have started providing training to informal sector workers and school dropouts in various slum clusters in Delhi
—Delhi Chief Minister Sheila Dikshit
Technical Education Community Outreach Scheme (TECOS): With a view to increasing the reach of technical education and to bring the informal sector works into the technical education stream, this scheme takes technical education to the doorsteps of the informal sector workers. The scheme provides for performance-linked funding to NGOs. Under the Scheme 15 NGOs have started providing training in various locations to informal sector workers and school dropouts in various slum clusters of Delhi.
Strengthening of Vocational Education in ITIs: About 58 outmoded training courses have been replaced with courses in demand having market demand during the last year and a similar number of outmoded courses are proposed to be replaced with courses in demand during the current year also. A Job Fair was organized for placement of students passing out from it is. About 7000 passing out students and 76 companies participated in the Job Fair and about 3000 students secured job through the Job Fair.
Increasing availability of polytechnic seats in high demand areas: Ambedkar Polytechnic and Ksturba Polytechnic have been adjudged the best polytechnics of North India for the year 2007. Admission to polytechnics has been done through an Online Counselling System during the past two years.
Job Portal: The Department has launched a Job Portal www.delhitechplacements.com. The Job Portal has the profile of students studying in various technical and vocational institutions.
Centres of Excellence in ITIs and TaSSKS: As a step in this direction, three Centres of Excellence in the Automobile, Manufacturing and Electrical sectors have come up at Pusa, Arab-ki-Sarai and Dheerpur and two more Centres of Excellence are slated to commence shortly. As a further move in the direction of improving industry-institute interaction we have taken the momentous step of setting up Takniki Siksha Sansthan Kalyan Samitis (TaSSKS) in each of our technical education institutes.
Delhi College of Engineering (DCE): Delhi College of Engineering during its 65 years of dedicated service to the nation has produced a large number of distinguished engineering and technology professionals though its Graduate, Post Graduate and Doctoral research Programmes. In addition to the above, major thrust has been provided during the last 3 years on building up a culture of research at UG level. This has resulted in the development of DCE Hybrid Car (the first Hybrid Car in India), Super Mileage Vehicle attaining 165 km in one litre of petrol, development of All Terrain Vehicle, Formula Student Car and DCE Unmanned Aerial Vehicle. All these innovations received high national and international acclaim at world competitions organized by SAE International (Society of Automotive Engineers) in the United Kingdom and in South Africa and International Aerial Robotics Competition in the United States.