"Our relationship with India is based on mutual benefit and equality"
H.E. Syed Muazzem Ali was born on July 18, 1944 in Sylhet. He obtained his Master's Degree in Science from Dhaka University in 1966, and placed in the First class.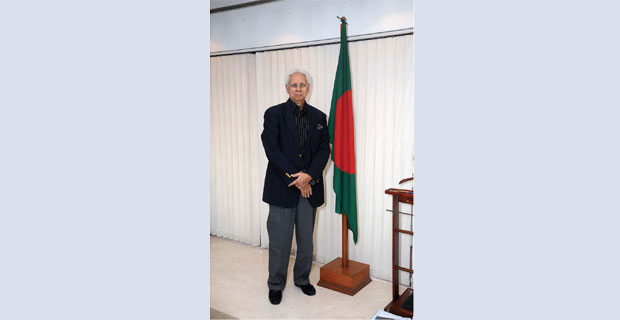 What we are witnessing now is a high-point in India-Bangladesh relations. Prime Minister Modi and H.E. Sheikh Hasina, Hon'ble Prime Minister of Bangladesh met twice in September 2014 and September 2015 at New York on the sidelines of the UNGA. Mr. Modi subsequently paid a state visit to Bangladesh in June 2015. Prime Minister Hasina visited India in August 2015 and October 2016. What are your views on these visits?
Since assumption of power for the second time in 2009, Prime Minister Sheikh Hasina has consistently tried to restore mutual trust and cooperation, and she has brought a change in our mindset in our bilateral ties. Happily, Prime Minister Narendra Modi after assumption of office two years back had also expressed his keen desire to promote our bilateral cooperation. His historic visit to Bangladesh in June 2015 has taken our ties to newer heights. Sixty-eight years after the partition of British India, and forty-one years after the conclusion of the Indira-Mujib Border Accord of 1974, the Land Boundary Agreement (LBA) between the two countries was concluded and ratified in 2015. Prime Minister Narendra Modi has demonstrated how a long-standing complex bilateral issue could be resolved unanimously through consultation, compassion, and consensus-building. I would like to recall here with great satisfaction and pride that President Pranab Mukherjee at the annual cavalry memorial lecture in New Delhi in November 2015 had termed Bangladesh-India relations as the "best ever since 1974".